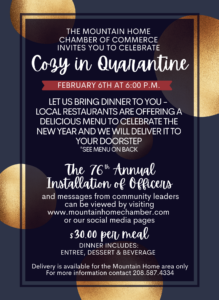 Due to Covid-19 restrictions, the Mountain Home Chamber of Commerce will not be hosting a traditional Installation Banquet. Instead, the Board of Directors will be bringing dinner to your doorstep. We have partnered with local restaurants to provide amazing dinner options, including the entree, dessert, and a beverage. The dinner will cost $30 per person, and delivered on February 6th at approximately 6:00pm.
The Chamber will showcase a video of the installation of officers and messages from community leaders. The video will be available on February 6th.
Fundraising raffle tickets are also available for purchase. Tickets cost $20 per ticket or $100 for 6 tickets.
For more information or to purchase dinner and raffle tickets, visit 76-installation.eventbrite.com.